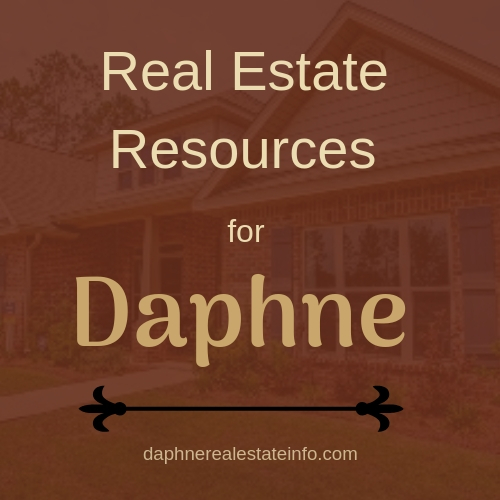 Whether you are buying or selling a home in Daphne, you'll be able to gather information here to make your real estate transaction as smooth as possible. Come back often as this page will continue to grow.
Resources for Buying a Home
Services for Buyers – Here you'll find a list of the services that I provide as a buyer's agent. From identifying your real estate needs to sitting next to you at the closing table, I'll work with you throughout the whole process.
Search for Homes – Find pre-loaded search categories for Daphne real estate including homes by price, number of bedrooms, waterfront, and more.
11 Steps to Buying a Home in Daphne – This page will take you to a comprehensive guide for the 11 clear cut steps of buying a home in Daphne. Topics that are included are:
Developing a Budget
Working with a Realtor
Getting Pre-Approved
What Are Your Real Estate Needs and Wants
Looking at Homes
Time to Make an Offer
Final Approval
Terms of the Contract
Utilities
The Final Walkthrough
Closing Day
Mortgage Calculators – 15 online calculators to provide financial estimations and guidance.
Preferred Vendors List – From carpet cleaners to loan officers, here is a growing list of vendors that I and other professionals use for the Daphne real estate market.
Resources for Selling a Home
Seller Services – There are literally dozens of tasks that are involved in selling a home but this is a general outline of what's involved.
What Is Your Daphne Home Worth? – Click to find out. Once I have a few details about your property, you'll have the results as soon as possible. No pressure/no obligation.
9 Steps to Selling Your Home – Are you thinking about selling your home? There is a process for having a successful sale while making the most profit. Here you'll read about:
Making the Decision to Sell
Preparing Your Home to Sell
Hiring a Realtor
Establishing the Right Price
Marketing
Working with Showings
Negotiating Offers
Dealing with the Contract
Closing on Your Home
Your Pre-Listing Package – I've created a 33 page Pre-Listing Package detailing exactly what I'll do in order to sell your Daphne home. Check this one out! Here's what you'll find:
Letter to the Home Owner
Jeff Nelson's Bio
3 Major Goals
My Commitment to You
Home Selling Process and Timelines
The Marketing Plan
201 Step Action Plan
Let's Talk Price
The Benefits of Proper Pricing
My Easy Exit Listing Agreement