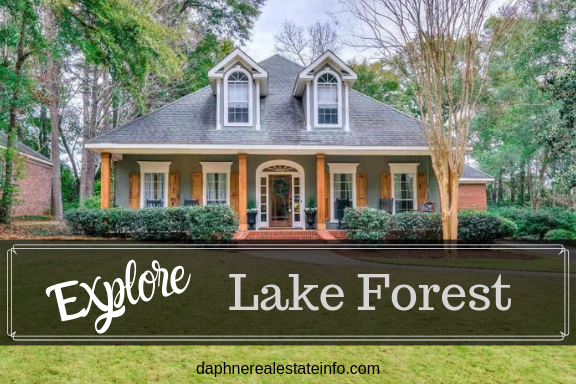 Explore the Neighborhood of Lake Forest
Lake Forest is one of the most popular neighborhoods in Daphne because of its proximity to major highways, variety of housing options, and low prices. With that in mind, the subdivision is so large that there are always plenty of homes to consider, especially if your price range is between $150,000 and $250,000.
Another thing that I love about this area is the fact that it's not your run of the mill "cookie cutter" neighborhood that was developed on a flat bean field. Lake Forest is heavily wooded with varying elevations and shows a wide range of character.
Location
One of the reasons that Lake Forest is so popular is due to its location nestled next to highways 98 and 90, near Interstate 10. There are so many folks who live on the Eastern Shore but work in Mobile, many of those live in Lake Forest since it makes their drive that much easier.
Homes
Lake Forest is one of the most diverse neighborhoods in Baldwin County as it relates to home styles, age, and architecture. You may come across a home that was built in 1961 or a property that was completed just last year. From what I can see, most of the homes were constructed in the 70's, 80's, and 90's. With this being said, Lake Forest is a great example of an area where contractors can purchase a home, enhance it to today's standards, and then sell a better product to the public.
Let's talk diversity. The bottom line is, if you're a buyer for a home that is priced under $300,000, there is probably something here for you in Lake Forest.
Lake Forest offers:
Ranches
2 story homes
Town homes
Condos
And even apartments
You'll find many different home styles here as well:
Contemporary
Cottage
Traditional
Creole
Raised Beach
You'll find properties with as little as 600 square feet as well as those that are over 3,000 square feet. There will be homes that are fully bricked and partially bricked. You'll see vinyl siding, wood siding, and even stucco/drivit. On the other hand, there is a consistency that runs with just about every property in Lake Forest. This area is heavily wooded which I think most people would appreciate.
Lake Forest is almost always at the top of the list for the most homes sold in Daphne. Yes, this has to do with how many properties are in the neighborhood but it also has to do with price. Let's look at the numbers for the last 90 days.
Pricing tends to run between $70,000 to $275,000.
Market Report for Lake Forest
| | | | |
| --- | --- | --- | --- |
| Homes Sold | Ave. Selling Price | Ave. Square Feet | Price Per Foot |
| 44 | $166,075 | 1,898 | $92 |
I provide market reports for the major cities of Baldwin County and various neighborhoods every month and $92 per square foot is really hard to beat.

Click the following link to see All of the Homes for Sale in Lake Forest.
Lake Forest Amenities
With such a large neighborhood, it would be nice to have some amenities to go along with owning here and Lake Forest has it. Here's what home owners are able to enjoy:
There is plenty to do without even leaving the neighborhood. Here's what you will find:
6 lighted tennis courts
18 golf course that includes a driving range, chipping green, practice bunker, and putting green.
3 swimming pools
Playground
Volleyball court
Picnic tables and grills
Disc golf course (Frisbee golf)
HOA fees are approx. $70/month.
Living in Lake Forest
Schools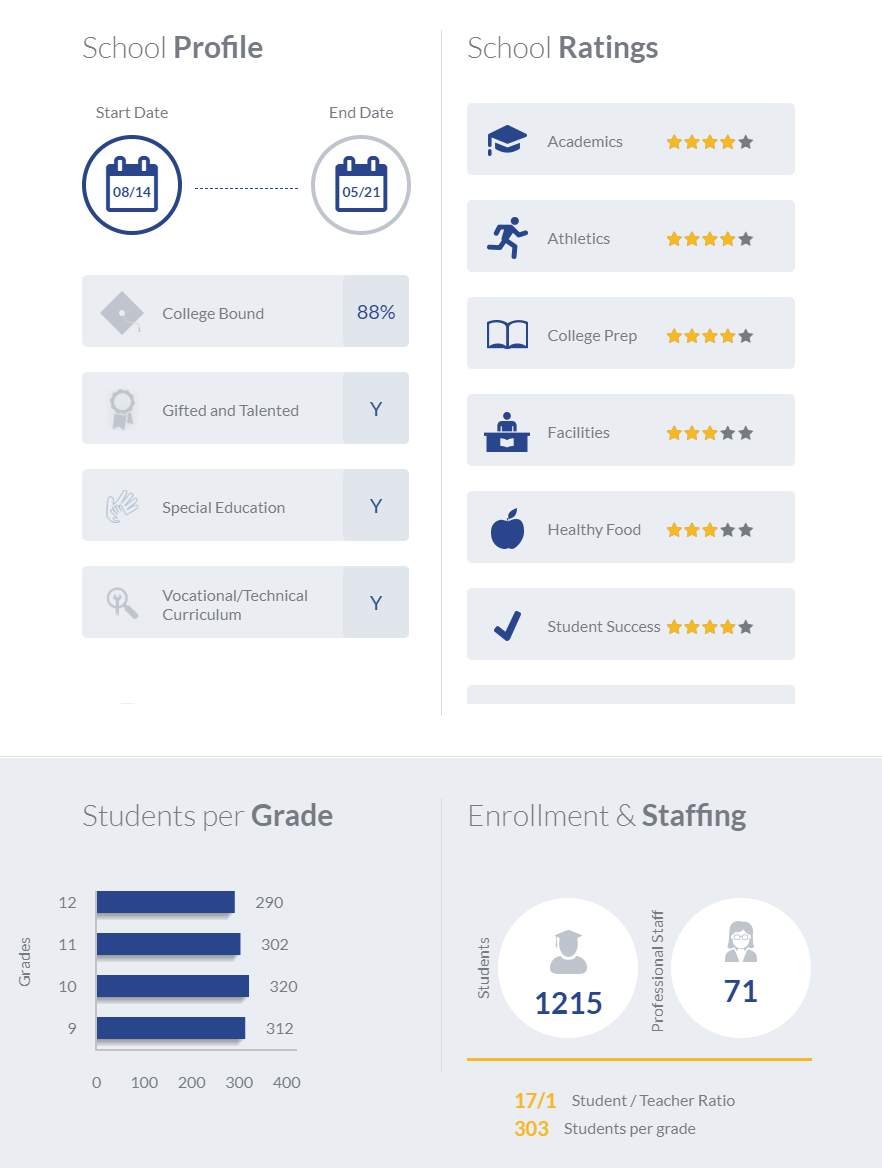 Because of the size of the neighborhood and how its laid out, you will get a sense of privacy as it relates to outside business and highways. However, you are literally just minutes away from plenty of shopping, restaurants, and things to do.
Shopping, Restaurants, & Activities
Jubilee Square sits adjacent to the neighborhood and contains about 40 stores and eateries. Here are a few highlights:
Home Depot
Dick's Sporting Goods
Starbucks
Longhorn Steakhouse
O'Charley's Restaurant
Hobby Lobby
Fresh Market
Office Depot
Pier 1 Imports
AMC Movie Theater

Also, just across the interstate you'll find the Spanish Fort Town Center which hosts Bass Pro Shop and a number of other shops and places to eat.

There is so much more to explore in the general vicinity of Lake Forest but this will give you a broad snapshot of what's in the area.

Lake Forest occupies a large footprint that's extremely convenient to major highways (98 and 90) and Interstate 10. Living here will literally put you within minutes from grocery stores, plenty of restaurants, home improvement, and access to other parts of the region.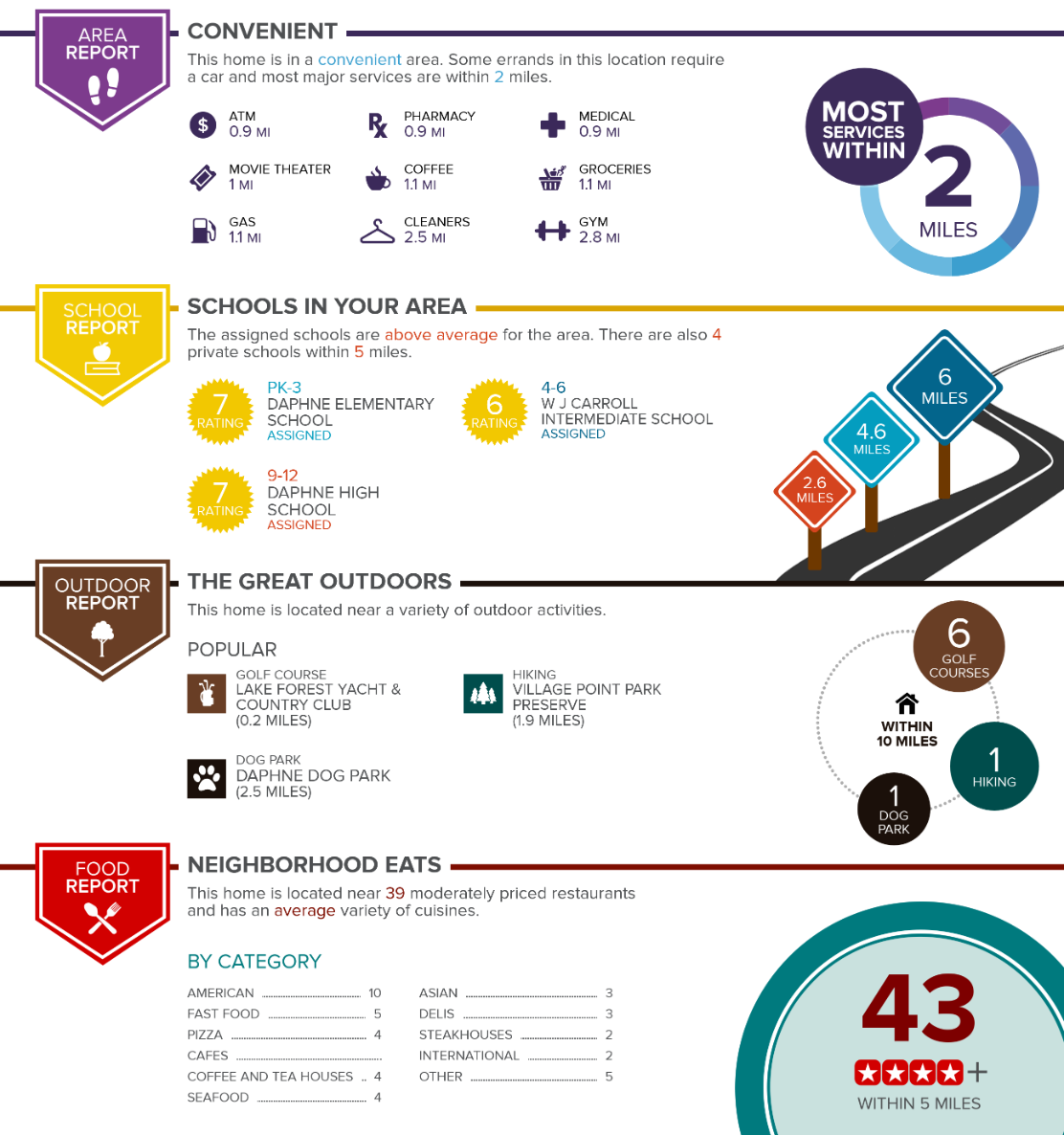 Click the following link to view the full Community Report for Lake Forest
Here are the distances from important places to the middle of the neighborhood:
Fresh Market – 2.1 miles
Interstate 10 – 2.3 miles
Daphne High School – 2.2 miles
Daphne Middle School – 3.6 miles
Daphne East Elementary – 3.9 miles
Home Depot – 1.9 miles
Gas station (Circle K) – 1.8 miles
Hobby Lobby – 2.1 miles
Starbucks – 2.3 miles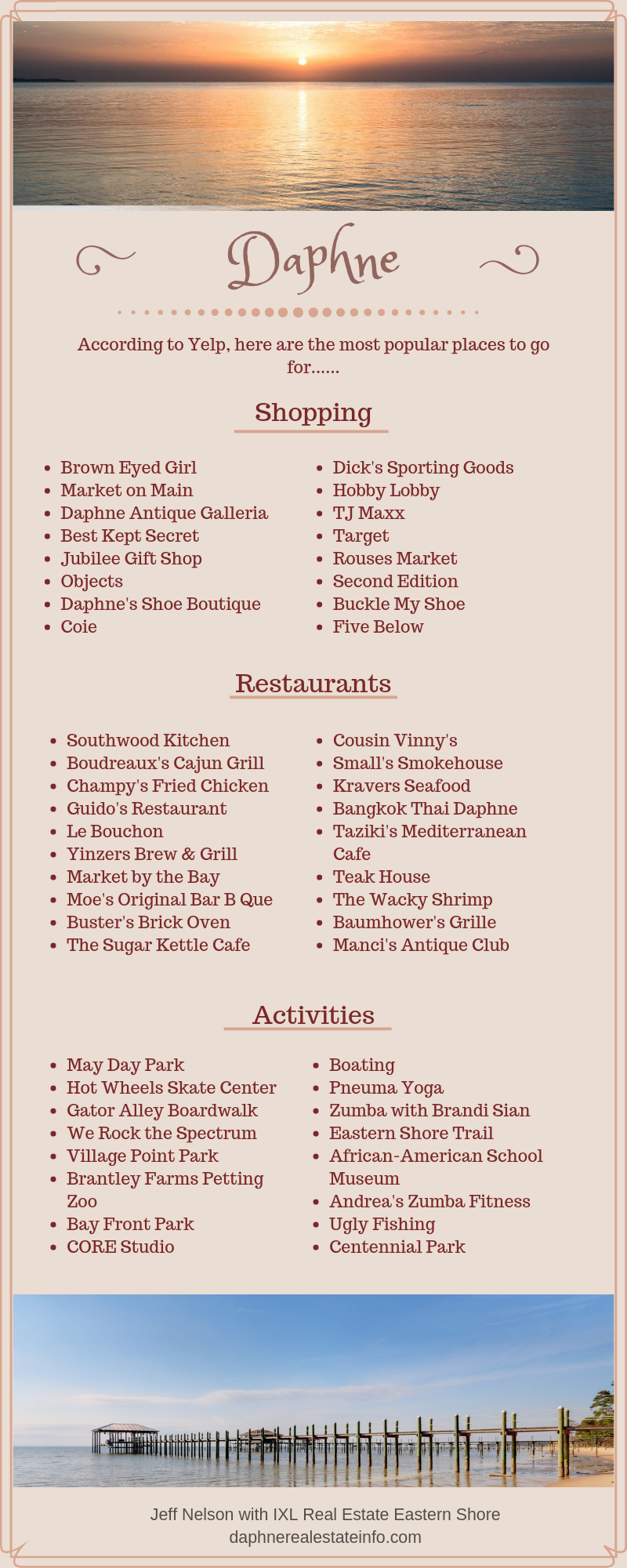 Important Daphne Websites
More Daphne Facts
If you are thinking about buying a home in Lake Forest, please reach out to me. I'll get you anything that you need and schedule for you to see any property that interests you.