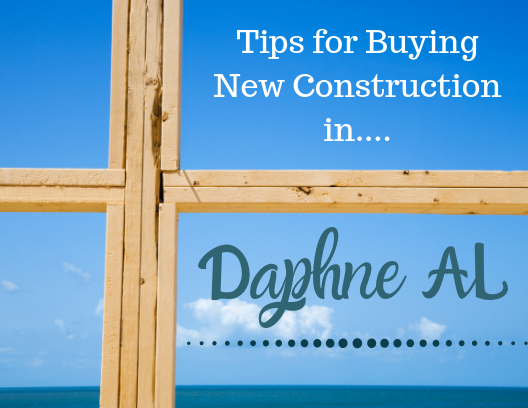 With the growth of new home buyers in Daphne continuing to climb, builders and developers have also risen to meet the demand. You don't have to go too far to find someone putting the final touches on a brand new home or studs going up to start a new one. Daphne is exploding with new construction so I wanted to provide you with some helpful tips before you decide to purchase.
Here are some well-known Daphne neighborhoods that are very active with new construction:

Tips for Buying a New Construction Home in Daphne
Work With Your Own Realtor
Many home buyers who are considering new construction are guilty of walking into to model homes and working with the agent inside (which is understandable). However, most people don't understand how real estate law works when it comes to representation. The agent working "on-site" at the model home works for the seller, who in this case is the builder. That agent is obligated to look after the best interests of that builder in the form of terms, closing costs, sales price, etc. Yes, they want to sell the home but these agents will not be looking after your interests.
Be sure to work with your own agent whenever you buy a home, whether it's new construction or not. The buyer's agent will watch the buyer's back and the listing agent will watch the seller's. You could save thousands of dollars!
Shop Mortgage Lenders
Many builders will offer a "deal" if you close with their title company and use their recommended lender. While having some of your closing costs paid may sound enticing, you need to compare offers from a few different lenders. They all aren't created equal and making a quick decision may cost you a ton of money.
Your Realtor should have several mortgage lenders that have been vetted and have proven themselves in past transactions.
Get a Home Inspection
Yes, you heard that right! But wait a minute, we're talking about new construction. Well, people make mistakes when building a new home too plus building inspectors can miss something. There's no need to go over the many examples that I've run across over the years but trust me, hiring a home inspector is vital, no matter how old the house is.
This doesn't mean that the builder was trying to get one over on you. Paying for your own inspection will give you peace of mind and a second or third pair of eyes have never hurt anyone.
Contact me if you need a couple of good recommendations for home inspectors in Daphne.
Standard vs Upgrade
You can imagine that the model home will be dressed out to the hilt in order to showcase the property at its best. This is great but when it comes down to purchasing, you have to make sure that what you're getting with the home is spelled out in the purchase agreement. Upgrades can be represented in just about everything in a new construction home:
Lighting
Flooring
Countertops
Window treatments
Cabinetry
Trim
Plumbing fixtures
Know exactly what you're getting and what to expect on closing day.
Stay in Your Lane When It Comes to Budget
Speaking of upgrades, it's so easy to casually raise the bar when you're deciding on the little extras for your home. Most home buyers will walk in with a budget in mind but stay on task and don't over do it, even if it means not getting the premium lot that you wanted.
There are many new neighborhoods in Daphne and pricing isn't exactly the same. If you really do want that built-in entertainment center, you could possibly find the same house in a different subdivision at a lower price.
Do Your Homework on the Builder
In Daphne, we have custom home builders and we also have national developers that are represented very well in town like DR Horton, DSLD, and Adams Homes. Through the power of Google, it's easy to find reviews on these builders to find out how well or poor the experience was with past home buyers.
Do yourself a favor and take a little time to research these builders before taking the plunge. You can also talk with your Realtor to see they have any knowledge of this, good or bad. They are looking out for your best interests by the way.
Examine Your Purchase Agreement Thoroughly
Nothing says "headache" like trying to decipher a 20 page real estate contract. This is another reason to have your own Realtor representing to you. Your agent will know what things to look for that could effect you negatively. They will also be a second pair of eyes that care about you getting what you think you're getting. For instance, what happens when the builder doesn't close on time? Can you make any changes during the build? Will you be able to visit the construction site?
Buying new construction in Daphne is exciting and overwhelming. Relax and enjoy yourself but remember these tips to make sure that you're totally covered.
As your Daphne Realtor, I work as a buyer's agent for anyone that is considering the purchase of new construction in town. If this is you, call/text/email me today! Let's talk about what's important to you and how I can help you through this exciting time.