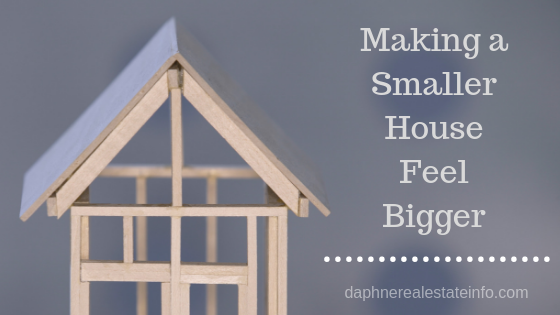 It's natural for families to grow. We're constantly adding things to our lives like animals, humans, and just overall stuff. The problem comes when when we stop adding long after we should have.
I'm speaking to the choir here, by the way. Personally, we once had a family that continued to grow so we thought it would be a great idea to build a 7 bedroom house. It was great and very practical but we soon found out that the 4,400 square feet still had lots of room so we kept buying stuff. As the kids grew up and it was time to sell, we had to have 5 garage sales to unload all the stuff that we didn't need anymore. At the end, we had people walking through the house taking what they want – for free. Unbelievable! We probably would have made different choices if we had a "do over".
Well, with large homes come large price tags so many people are looking into to buying smaller homes. Oftentimes, home buyers need to make adjustments in order to be in the right school district, close to entertainment, or to cut their commute time in half.
Luckily, there are ways to make a small home feel bigger. Here are some suggestions if the larger homes have either priced you out or you don't want to have 5 garage sales when you end of moving. Also, these tips will not only help you now but also when you sell. If you want to sell your home fast, make it look bigger!
Storage
Since we're all guilty of accumulating things over time, excess stuff can really clutter up a space. So, one of the biggest ways to make a small home feel bigger is to minimize or at least look like you're minimizing. There are a ton of options out today for storage that are allowing people to still have their things but "hide" them away. The amount of options probably coincides with the amount of demand since more people are buying smaller homes.
Built-ins and added shelving can always help with not only organizing your things but also keep them out of the way. Lord knows we all could use some help in our closets. Think of the space that you could free up by not having your shoes laid out in the bedroom (guilty).
You can also find furniture that stealthily hides away your stuff. For instance, I have a couple of footstools that double as storage bins. I've also seen coffee tables that unknowingly hide a secret compartment for storage. There are options!
Light
As a Realtor for many years, I've been in thousands of homes. Let me tell you, there is nothing that makes a small house even smaller than being dark. I tell sellers all the time to brighten up their space by letting the light in. Open the curtains, trim back the shrubbery, or remove bulky furniture to lighten up your home.
Natural light does wonders when it comes to making your house feel bigger and this fix is often free. On this note, you could spend a little money and paint the walls of your home if they're dark. Lighter colored walls and natural light will truly transform your house.
Outdoor Space
There are many people who use their patio or deck as an added living space and this can make your home seem bigger by creating an easy access to it. Create a sight line in the space that draws you to the outdoor area. If you have french doors that lead to your patio, don't cover them with blinds or just keep the blinds open.
By utilizing outdoor spaces, you can actually add living area to your home or at least give the appearance of having more.
High Ceilings
Ok, well most people won't be able to "install" a high ceiling but if you are buying a home, keep an eye out for properties with high ceilings. This will dramatically enhance the space and make your home feel bigger.
When I'm touring a home with clients that has tall ceilings I often ask my buyers to imagine if the room had 8 foot ceilings. The difference is huge if you have the opportunity for this option.
Whether you decide to take on some renovation projects around the house or buy something new, there are ways to make a small home appear bigger than it really is.