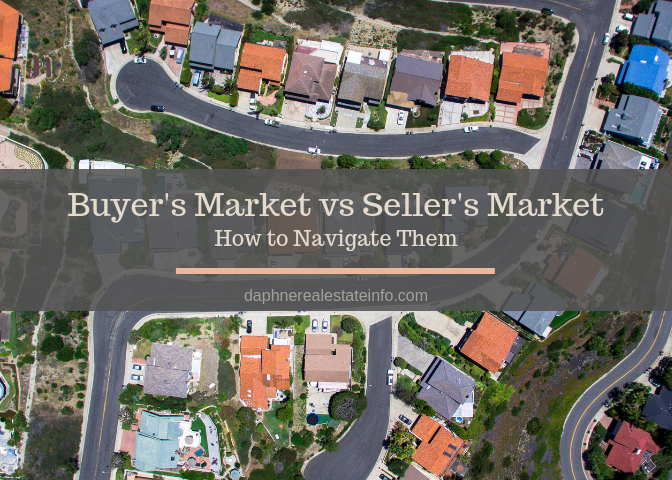 Real estate is cyclical with prices moving up for a few years here and moving down for a few years there. If you're like most people who are thinking about buying a house, you're left scratching your head wondering what type of market you're actually in at the time. After all, you don't want to lose money, right?
Well, no fear. You can always talk with a seasoned Realtor to determine pricing and fair market value but here you're going to get a broad overview of the differences between a buyer's market and a seller's market.
Here are some basic definitions….
The Buyer's Market
You're in a buyer's market when the supply of homes that are on the market is larger than the amount of qualified buyers. Supply exceeds demand. This is the most ideal time to buy a home because you are more likely to get a much better price on a house.
Sellers on the other hand will have to compete with every other seller in their area. They will have to do whatever they can to make their property stand out, which oftentimes means dropping their price.
The Seller's Market
This of course is the polar opposite type of real estate market. You're in a seller's market when there are more qualified buyers than there are homes that are for sale. Demand exceeds supply. This type of market will favor the seller, likely bringing them a higher sales price or better terms or both.
Buyers usually end up paying more for real estate and home values increase dramatically. As soon as a home comes on the market, there will probably be many showings within the first few days with buyers competing against each other from the very start.
Selling a Home in a Buyer's Market
Most real estate markets around the country aren't completely dead even in the slowest of times. People have to live somewhere, right? So, there are some things that you can do to set yourself apart from other similar listings in your area….
Remember, the advantage goes to the buyer so consider the following to make your property stand out:
Be Flexible on Showings
You have to be ready to show your home at any "reasonable" time. Obviously a showing at 11 o'clock at night would be ridiculous but under normal circumstances, be flexible. The more eye balls that see your home, the greater your chances of getting an offer. Tuesday night at dinner time may be inconvenient but it could be the difference in getting to the closing table.
Be Flexible When You Get an Offer
Your final sales price always rises to the top with importance so you'll have to weigh that factor out personally. You are likely to get lower offers during a buyer's market so be ready for them. One way to negotiate a low sales price is to be more flexible with the other terms of the purchase agreement.
Price It to Sell It
Speaking of price, it's not a good idea to overprice your home ever, especially in a buyer's market. Picture a buyer looking at homes online (which they will do). They have put in their criteria and out comes 40 listings for them to scrutinize. Their eyes will move to the price first and if most of the listings are priced less than yours, guess what home won't get an appointment.
Make It Shine
There are hundreds of articles about what to do to make your home more attractive to buyers but the bottom line is this. You want to "give the buyers less to do" after they close on the property. Here are just a few examples:
Paint your walls a neutral color
De-clutter to make your rooms appear larger
Clean up your flower beds
Pressure wash the outside
Repaint the front door
Repair all cracks, holes, missing caulking, light fixtures, etc…
Minimize every room
Remove collectibles and pictures of your family
Clean off your countertops
Have a garage sale
Have a pre-home inspection and repair any issues
The less negative things that you give the buyer to think about the faster you will sell your home in a buyer's market.
Buying a Home in a Seller's Market
The advantage is going to the seller this time so how does a buyer navigate a seller's market?
Be Financially Ready
Honestly you should do this no matter what market you're in but especially in a seller's market. Before you start to look at homes you should already have your budget in place and be pre-approved with a lender. When the perfect house comes on the market, you won't want to waste any time to get your offer in to the seller.
Be Quick
After you have all of your financial ducks in a row, you should develop a relationship with a good Realtor who knows your area. Your Realtor should be able to set you up with a system that will automatically notify you when a new listing comes on the market. When you see something that interests you, be quick to have your agent set up the appointment.
Be Mentally Prepared
In a seller's market, you are likely going to see a lot of competition among buyers that will result in bidding wars and increasing sales prices. You may also experience some rejection. Know that it's going to happen and be as competitive as you can be.
Be Strong with Your Offer
This is not the time to low ball the seller. It's just not that type of market. Again, in a seller's market you will probably have to compete with another buyer or more so you must be competitive with your offer. Think about how upset you'll be if your offer is not accepted then go from there. Your offer price should be strong, you should have a pre-approval letter in hand, and you should be really flexible with the terms of the contract.
Whether you're in a hot, cold, or neutral real estate market, there are ways to put yourself in the best position to win. Get with your Realtor and put them to work. If you're buying or selling a home in Daphne AL or anywhere else in Baldwin County please call/text/email today!