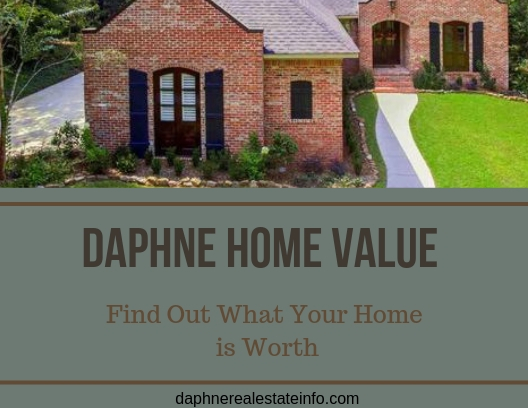 If you're considering selling your home or condo in Daphne, now might be the right time! The Daphne real estate market is hot with multiple closings every day of the month (even during the cool season).
One of the first steps in selling is finding out exactly what the value of your home is for your area. Below you're going to find one of the simplest tools on the market to do just that.
Get an instant report within seconds with just 2 steps:
Type in the address of your home
Type in your email address
Instantly you'll receive the lowest price paid, the highest price paid, and the average price for your neighborhood. This home value range is great information to have in considering a list price.
The correct list price is the most crucial element in selling your home.
You will also see the most recent home sales in your vicinity that include the address, square feet, year built, the date sold, and of course the selling price.
These figures are designed to give a general idea of home value in Daphne. To pinpoint the correct list price of your property, well, that's where I come in.
If you want a "to the penny" list price I'll need to discover the highlights of your home and dig deeper into the historical data of our market.
I'm a no pressure Realtor and I"m not pushy, so there is no obligation. After getting your general home value, reach out to me for a no stress evaluation of your property. I look forward to sharing my knowledge and marketing skills with you.
Simply fill out the form for an instant and free value of your Daphne home.